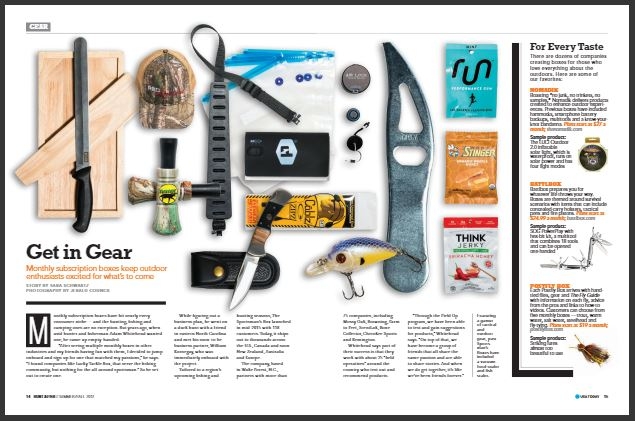 Join Us & Be VIP!
Receive VIP status while helping us continue growth and launch the next projects! 
We are the Hunting and Fishing industry, yes that "we" means YOU too. Will you help us continue to grow? We are innovating and bringing to life our next projects that are expected to not just add value to our industry, but grow the industry!
*Scroll Down to See VIP Rewards Below
This Is Why
Welcome! This is your exclusive invite to join us as we embark to continue to bring services and products that upgrade the sportsman's lifestyle. I'm Adam Whitehead, owner of Sportsman's Box. I fell in love with the sportsman's lifestyle at a young age and whether you have been in it for years or just begun, it is up to us, you and I, to make sure it "thrives on".  From sportsmen and women being active in the outdoors, all the way to companies producing innovative products and platforms that invite all to enjoy hunting and fishing. It's up to us.
Currently we send thousands of members across the US and Canada a monthly box of new gear to upgrade their sportsmanstyle or sportswomanstyle! We receive 5 star feedback month after month and this is just the beginning as we continue to improve. 
We don't want to stop at the monthly box, the next projects we are set to launch will continue to bring value to you and your next pursuits. They will also close the gap between our lifestyle and those who do not agree with it (or simply don't know about it).  Excitement is an understatment as we can not wait to share with you what we've been up to. But we can't do it without your help. We hope you will consider joining us with one of the VIP packages below to help us bring the new projects to life. 
*Already a member and would like to contribute, no worries, we will credit your account the correct number of boxes!
What are you waiting for, become VIP!
*Lifetime Discount - Applied to any regularly priced box service or products on store.
*Limited Edition Shirt - Custom Shirt Only Delivered to VIP Packages
VIP Package - $75
Next Sportsman's Box

Limited Edition Sportsmanstyle Shirt

10% Lifetime Discount
VIP Package (You and a Friend) - $150
2 Sportsman's Boxes (Get 1, Give 1)

2 Limited Edition Sportsmanstyle Shirt

10% Lifetime Discount
VIP Package (Early Bird) - $250
Next 6 Sportsman's Boxes

Limited Edition Sportsmanstyle Shirt

10% Lifetime Discount
VIP Plus Package - $500
Next 6 Sportsman's Boxes

1 Bison SoftPak Cooler

Limited Edition Sportsmanstyle Shirt

15% Lifetime Discount

Early Access to New Products
VIP Elite Package - $1,000
Next 12 Sportsman's Boxes

1 Bison SoftPak Cooler

1 Bison 25 Qt Cooler

Limited Edition Sportsmanstyle Shirt

15% Lifetime Discount

First Access To New Products
VIP  Elite Package w/ Trip - $5,000
Next 12 Sportsman's Boxes

1 Bison SoftPak Cooler

1 Bison 25 Qt Cooler

Limited Edition Sportsmanstyle Shirt

Be the Host - All Expense Paid, Professionally Filmed Hunt (Potential to Air on Network)

15% Lifetime Discount

First Access To New Products
VIP Elite Package w/ Trip for 2 - $10,000
Next 12 Sportsman's Boxes(2x) (Get 12, Give 12)

Be the Co-Host with a Friend - All Expense Hunt for 2 Professionally Filmed (Potential to Air on Network)

2 Bison SoftPak Cooler

2 Bison 25 Qt Cooler

2 Limited Edition Sportsmanstyle Shirt

20% Lifetime Discount

First Access to New Products